What Do We Do?
At Techno Systems, we offer a comprehensive solution for all your computer needs, from laptops and desktops to upgrades and repairs. Whether you're in the market for new, refurbished, or second-hand equipment, we guarantee to provide you with the most competitive prices on the market and exceptional customer service.
Our Company History
Established in London in 2018, Techno Systems was founded with a simple mission – to provide customers with high-quality laptops at affordable prices. Over the years, we have earned a reputation for delivering reliable and trustworthy service and building strong relationships with our customers.
Our Vision
Our vision is to provide an exceptional customer experience while offering top-notch products at unbeatable prices. We want to be more than just a one-stop shop for our customers. We aim to establish lasting relationships by providing personalized support and after-sales services.
Cooperate with Us!
We're always happy to hear from you, no matter what your computer needs are. If you're looking to purchase several laptops or desktops for a business or perhaps you'd like a specific upgrade to a model we have listed in our store – no matter the query, feel free to get in touch by dropping us an email or giving us a call. We'll do everything we can to accommodate your request!"
Registration details: 220c Blythe Road, London, W14 0HH, United Kingdom.
Our shop: 84 High Street, Lincoln LN5 7QW
Company Number 11653072 VAT No. GB 321 6868 96
Our shop in Lincoln at 84 High Street LN5 7QW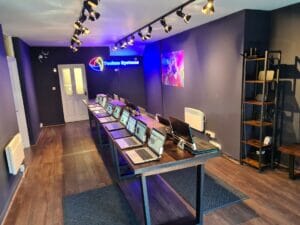 Go to Home Page Click Here